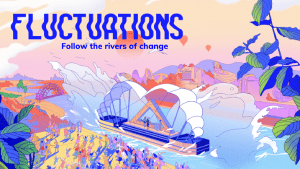 Communication Manager
Fluctuations
Europe
Where? Wherever in Europe, but ideally reaching Paris easily on a regular basis.
What is Fluctuations?
Fluctuations is a future floating transnational festival wandering European rivers, to engage people on social, environmental, and citizenship topics!
At numerous stops, an eco-designed riverboat stage - the festiboat - docks in inner cities, transforming into a vibrant temporary festival. The riverbanks come alive with joy, music, art, a hub of solutions, a savory food court, a kids' section, and diverse workshops and talks, inviting people of all backgrounds to co-create a beautiful future for the European Union and society.
Fluctuations is cofinanced by the European Union. Our wonderful communication gem will have the chance to collaborate with amazing partners: VibeLab, European Alternatives, Subjective Values Foundation, BESIGN.
In 2024, Fluctuations will set 5 events in France, Belgium, Netherlands, Germany and Hungary.
Description of the job
The challenge:
Work with the team & the partners on the long-term communication strategy and plan;
Roll out the communication strategy and create:

a strong community of followers of the project;
bring audience to the event.
The Missions:
Set an impactful communication strategy and communication plan, in coordination with the team members and the partners;
Look for communication partnerships (media, influencers, street marketing, etc.);
️Create from scratch and manage the communication tools:

crazy website;
amazing social networks;
lovely newsletters.

of course a bit of reporting, but not too much.
Why onboarding?
A project with a strong social, environmental and cultural impact;
A project that will be a landmark in the world (of festivals);
A strong, experienced and committed team, eager to make each other grow;
Several (spontaneous) meals, and aperos.
Ideal profile
You have:
Craziness, creativity, kindness and wish to bring positive change;
Excellent communication skills in English and French;
Basics in creative softwares indesign, photoshops, etc.;
Leadership and team spirit;
'Get things done' spirit.
Details:
Internship/Service civique;
Length: 6 months, or more.
Fluctuations values diversity through ethnicity, colour, religion, gender identity or expression, sexual orientation, national origin, ability, or age, and we equally encourage BIPOC, women and non-binary individuals to apply.
Smmmile
SMMMILE is a non-profit organization that creates socially engaged events to raise awareness about environmental and social transition issues, with a particular focus on issues related to food transition. For the past 7 years, the association has been co-producing the SMMMILE Festival with La Villette. It possesses a strong expertise in volunteer engagement, event production, and communication.
Recently, SMMMILE has expanded its scope by launching Fluctuations, the first European river festival aimed at mobilizing young people on issues of ecology, inclusion, and citizenship.
Apply
Please answer all questions and attach your CV and motivation letter.
Click here and follow the instructions carefully to apply.
Don't forget to mention EuroClimateJobs when applying.